2018-ban jelent meg egyesültünk elnökének könyve a holland megrendelésre a TITANIC tervei alapján épült óceánjáró, a STATENDAM (II). történetéről, amely az első világháborúban JUSTICIA néven brit lobogó alatt teljesített szolgálatot és süllyedt el 1918-ban, mindössze négy hónappal a háború vége előtt. A könyv megjelenése óta eladott példányok olvasói folyamatos visszajelzésekkel járulnak hozzá ahhoz, hogy a szerző is megismerhesse, milyen hatást keltett a százéves történet modern feldolgozása. Ezek a visszajelzések a szerző FB-oldalán az "Olvasósarok" rovatban bárki által megismerhetők. A legfrissebb visszajelzést az angliai Kentben élő Myles Chantler küldte: "Csak annyit mondanék: a JUSTICIA-ról/STATENDAM-ról írott könyve első osztályú. Lenyűgöző könyv, a hajóról szóló megannyi információval! Épp befejeztem az olvasását, és most kezdem elölről, nehogy kihagyjak bármit is! Feltehetnék ugyanakkor egy kérdést? Vajon rendelkezésre áll-e időrendi lista a hajó háborús útjairól? Jó lenne tudni, hogy hány alkalommal és mely kikötőket érintette a hajó. […] Még egyszer köszönöm a remek könyvet!" Nos, a JUSTICIA történetének kronológiája eddig még nem készült el. A kérdés nyomán azonban Balogh Tamás most elkészítette, hiszen a Szerző számára is kivételes öröm, ha az Olvasó pozitív visszajelzése nyomán tovább folytatódhat a történet.
1912.03.01.: Johann Georg Reuchlin, a rotterdami székhelyű Holland-America Line vezérigazgatója megrendeli a hajót a belfasti Harland & Wolff Hajógyártól. A hajó terveit az előző évben nagy sikert arató OLYMPIC-osztályú óceánjárók tervei alapján készítik el, de a hajó három hajócsavarja közül a középső az OLYMPIC-on alkalmazott megoldástól eltérően – a TITANIC-on követett és a korábban már bevált megoldással megegyező módon –nem négy-, hanem csak háromszárnyú.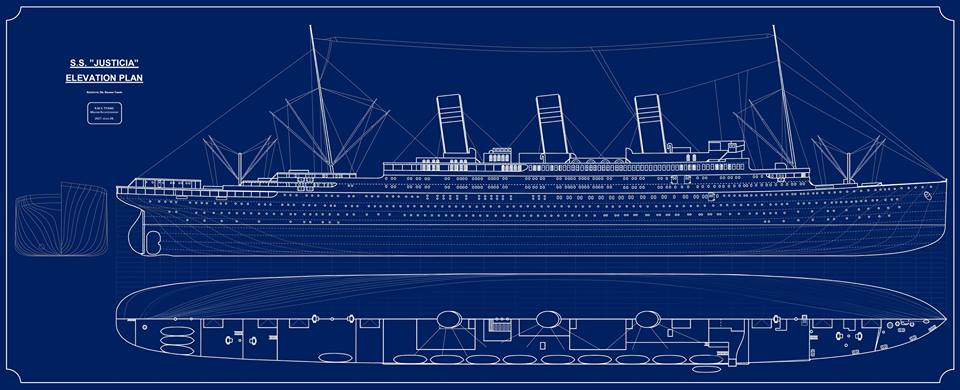 1. ábra: A hajó tervei, felülnézete és vonalterve (Forrás: Dr. Balogh Tamás).
1912.03.21.: Joseph Bruce Ismay, az International Mercantile Marine vezérigazgatója a vállaltcsoporthoz tartozó tagvállalatok vezetői közt Johann Georg Reuchlin-t is meghívja a White Star Line legújabb óceánjárója, a TITANIC avató útjára.
1912.04.15.: A TITANIC elsüllyedése, Johann Georg Reuchlin halála. A hajó annyira hasonlít a TITANIC-hoz, hogy az elsüllyedt óceánjáró katasztrófájának megfestéséhez William Henry Pearson a STATENDAM-ot használja fel modellként, amint az a festményen ábrázolt hajó felépítményének elejéről egyértelműen azonosítható.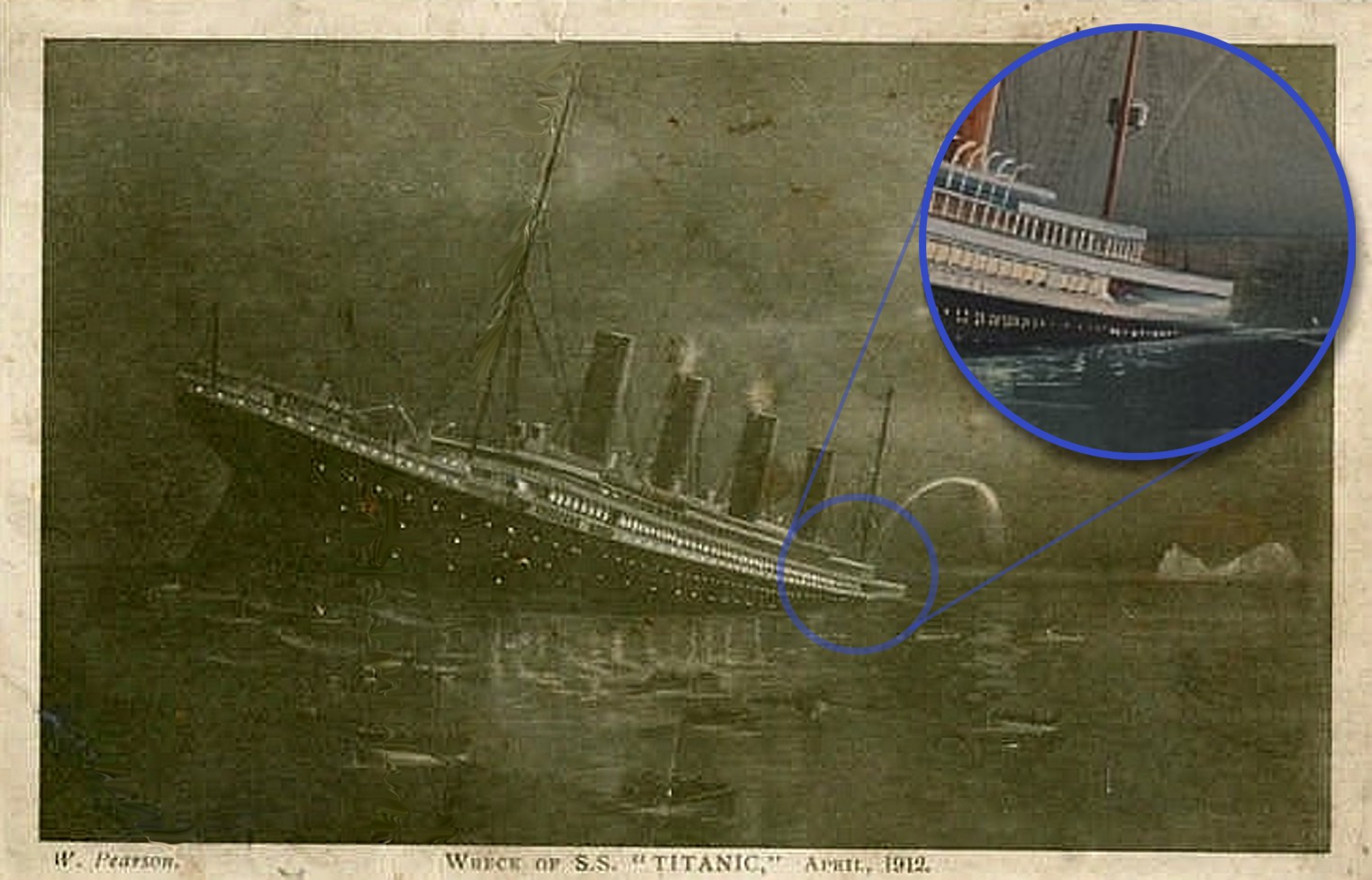 2. ábra: Fekete-fehér reprodukció a Pearson-festményről és annak az a részlete, amely a STATENDAM általános elrendezését követi, nem pedig a TITANIC-ét (Forrás: Greenwichi Királyi Múzeum).
1912.05.31.: A tervezés alatt álló hajó biztonsági rendszerének teljes áttervezése, a válaszfalak felmagasítása.

3. ábra: A hajó újratervezett vízzáró válaszfalai. A TITANIC süllyedésével kapcsolatos vizsgálat eredményeként végrehajtott módosítások piros tintával jól láthatók a rajzon (Forrás: Lloyd's Register Alapítvány, Örökségi és Oktatási Központ).
1912.07.11.: A hajó gerincfektetése (yard no. 436.).
1914.07.09.: A hajó vízrebocsátása.
1914.07.28.: Az első világháború kitörése.
1914.08.04.: Nagy-Britannia belép az első világháborúba.
1914.10.01.: A brit admiralitás felfigyel a nagy befogadóképességű, gyors és félkész hajóra, és 1 000 000 fontot ajánl a berendezések nélküli hajótestért a Holland-America Line-nak. A cég azonban szeretné megtartani a hajót, ezért felajánlja, hogy inkább mérsékelt díj ellenében bérbe adja, ha a háború után visszakaphatja, vagy az Admiralitás hasonlót biztosít, ha a hajó odaveszne a harcokban. Nem születik megegyezés, de a tárgyalások folytatódnak.
1915.03.02.-1915.12.04. között a San Franciscóban megrendezett Panama-Csendes-óceáni Világkiállításon bemutatták a hajó fényes belső tereit díszítő berendezés egy részét. A kiállítás elvben az 1914 augusztusában átadott Panama-csatorna megnyitását volt hivatva ünnepelni, valójában a rendező San Francisco kívánt demonstrálni, hogy kiheverte az 1906-os pusztító földrengés hatásait (további információ: https://www.worthpoint.com/worthopedia/ss-statendam-holland-america-line-165787502).
1915.09.01.: A hajó sorsát illető tárgyalások lezárulnak. A brit admiralitás elfogadja a holland feltételeket.
1915.12.08.: A szerződés aláírása és a hajó átadása a brit Királyi Haditengerészet számára. Az Nemzetközi Kereskedelmi Tengerhajózási Társaság 10 %-os közvetítői jutalékot kap.
1917.04.07.: Az Egyesült Államok hadba lépését követő napon befejezik a hajó felszerelését és szolgálatba állítják, mint szállítóhajót. Eredetileg (a ténylegesen hadianyag-szállító hajóként használt "Lusitania" 1915. május 7-i német elsüllyesztése után) a kormánytámogatást élvező Cunard Line-nak ajánlották fel, ezért a STATENDAM nevet a Cunard "ia"-ra végződő névadási gyakorlata szerint (s a háborús propaganda részeként arra utalva, hogy így helyre-áll az "igazság") JUSTICIA-ra változtatták és elé illesztették a H.M.T. (Hired Military Transport - Bérelt Katonai Szállítóhajó) rövidítést (sok forrás a H.M.H.T., His Majesty's Hired Transport - Őfelsége Bérelt Szállítóhajója, köznyelvi változatot használja). Ám a Cunard nem tudott elég embert, matrózt, gépészt és tisztet kiállítani, márpedig az Admiralitás feltételei szerint legénységről az üzembentartónak kellett gondoskodni. Mivel a flotta ragaszkodott a hajó mielőbbi szolgálatba állításához, nem vártak, amíg Cunard megoldást talál, hanem felajánlották a hajót a White Star Line-nak is, amely kapott az ajánlaton és az 1916. november 20-án elsüllyesztett Britannic túlélő legénységét vezényelte a hajóra (akik örültek, hogy megmarad a munkaviszonyuk). A hajó a Pireuszban felvett legénységgel a görögországi Lémnosz szigetére ment, ahonnan a Gallipoli hadjáratból evakuált brit katonákkal tért vissza Nagy-Britanniába. A hajó parancsnoka Alexander Elvin Sherwin Hambelton (1863-1929) (további információ: https://www.encyclopedia-titanica.org/community/threads/news-from-1922-1929-retirement-and-death-of-capt-hambelton.25501/; https://ancestors.familysearch.org/en/GQC6-FCQ/alexander-e.s.-hambelton-1863-1929).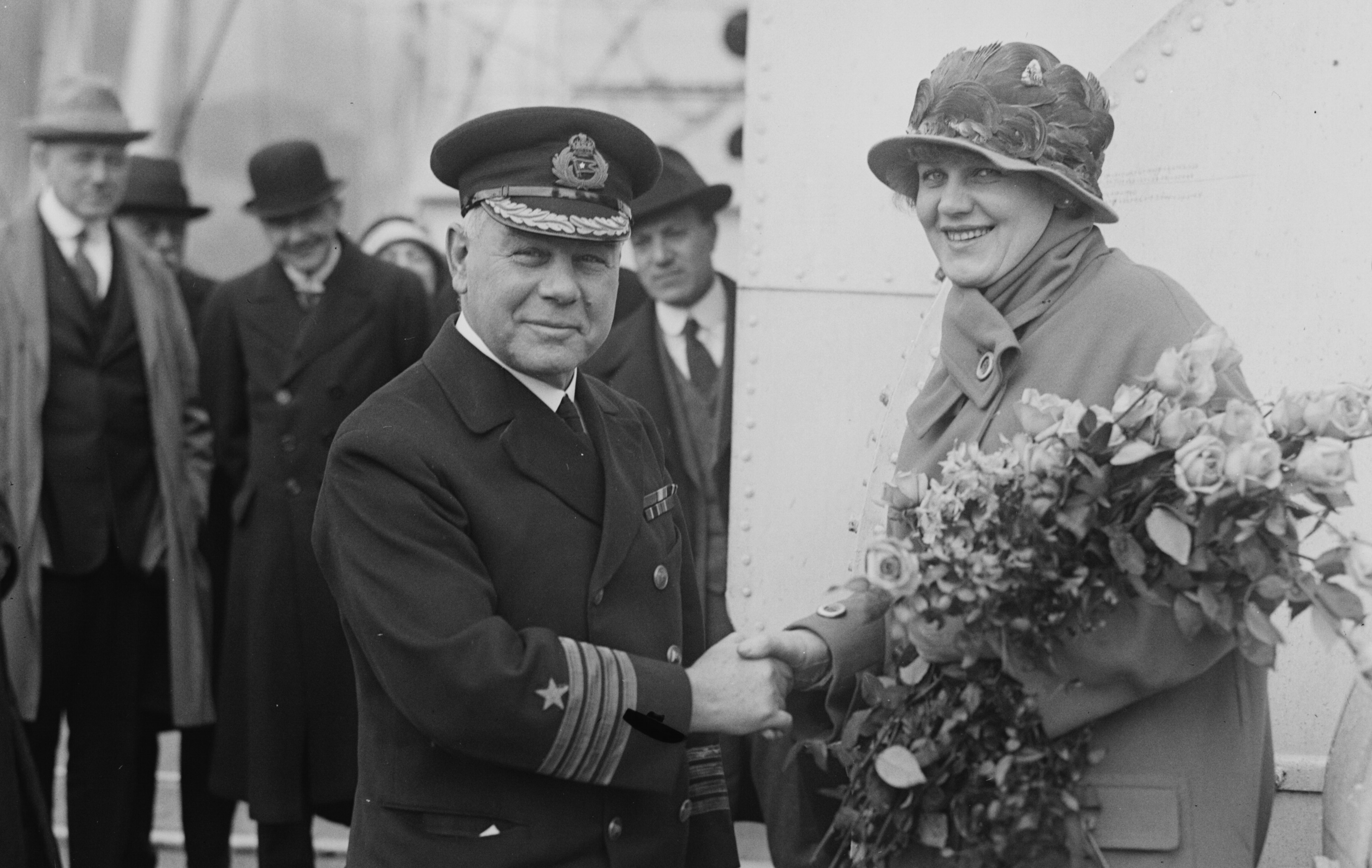 4. ábra: Alexander Elvin Sherwin Hambelton (1863-1929), a JUSTICIA parancsnoka (Forrás: Wikimedia Commons).
1917.04.25.: A JUSTICIA a White Star Line másik óceánjárója, az Adriatic társaságában első atlanti átkelésén New York-ba érkezik. Ettől kezdve rendszeresen ingázott Liverpool és a kanadai Halifax, valamint az amerikai New York között. Járatain átlagosan 5 000 katonát és 15 000 tonnányi felszerelést szállít.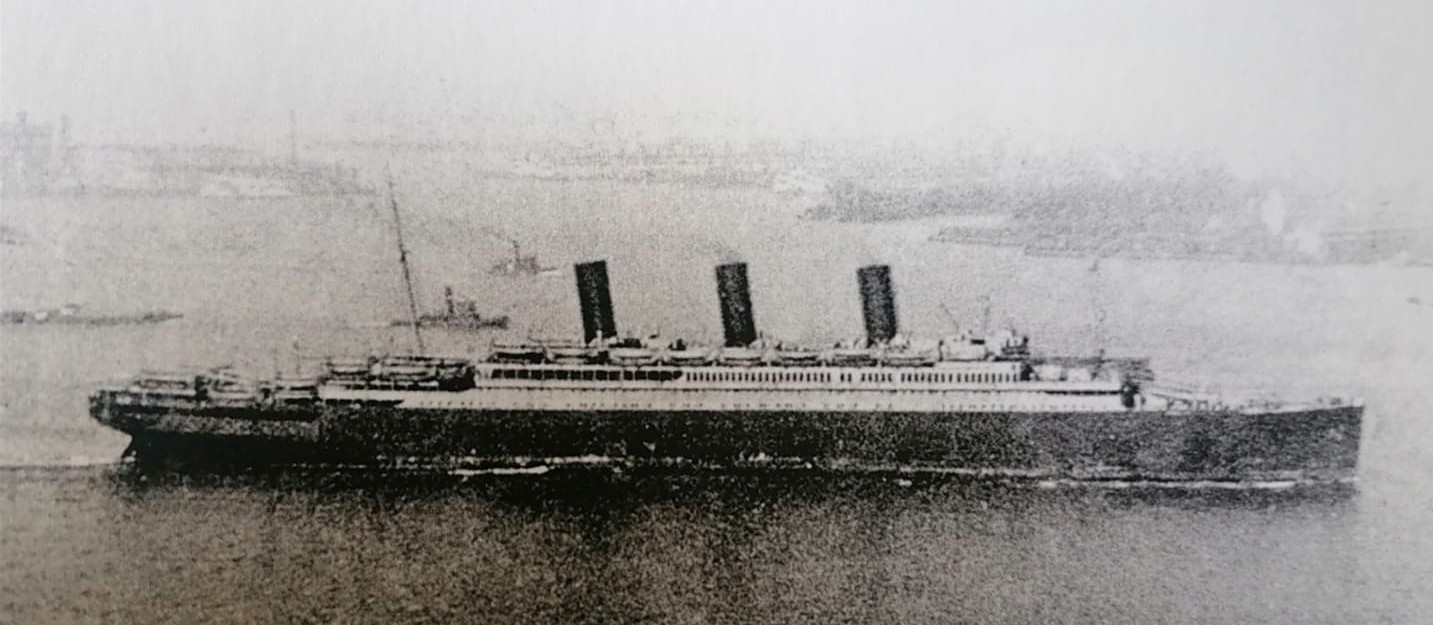 5. ábra: A hajó a New York-i kikötőben. Balra a háttérben az Ellis-sziget épületei láthatók. A hajó maga - a kémények kivételével - az eredeti színeit viseli (Forrás: egy holland gyűjtő gyűjteményéből, pontos referencia szükséges).
1917.06.14.: A brit admiralitás egy éves előkészítés és több gyakorlati próba után bevezeti a kereskedelmi hajók konvojrendszerét az Atlanti-óceánon (a Földközi-tengeren 07.22-én). 1917-ben 189 Nagy-Britanniába tartó (2 825 hajóval), illetve 164 Nagy-Britanniából induló konvoj (2 365 hajóval), 1918-ban pedig 417-373 konvoj (6 866-5 126 hajóval) kelt át az Atlanti-óceánon.
1917.10.23.: A hajó a Halifaxból indult konvojjal Liverpoolba érkezik. A hajón ezúttal összesen 1 494 személy – 1 391 katona (1 075 amerikai, 101 kanadai és 213 szerb tartalékos), valamint 105 külföldi utas – tartózkodott. Az utas-listán 7 brit alattvaló polgári személy neve is szerepelt (valamennyien nők), 6-an a fedélzeten szállított sereg tisztjeinek feleségei (egyikük Sir Charles McGrigor dandártábornok hitvese), egyikük pedig a Montreali Bank vezérigazgatójának felesége.
1917.12.06.: A hajó a Halifaxból kifutó konvojjal Liverpoolba indul. Ezen az útján megdönti az első világháborús tengeri hadiszállítások rekordját: 30 000 tonna hadianyagot (a háborúban addig hajón szállított legnagyobb mennyiséget) és a front mögötti munkára toborzott 12 000 kínai munkást szállít a fedélzetén. A hajó kifutása csaknem egybeesett a városban történt hatalmas lőszerrobbanással, amikor a 2 300 t pikrinsavval, 200 t TNT-vel, 35 t magas oktánszámú benzinnel és 10 t lőgyapottal megrakott Mont Blanc, francia teherszállító hajónak a kikötőben nekiütközött a rakomány nélkül közlekedő norvég Imo teherhajó (amely eredetileg Runic néven épült Belfastban a White Star Line részére 1889-ben). A Mont Blanc az ütközés után 10 perccel kigyulladt és 25 perccel később felrobbant. A hajó körül 2 km2-es körzetben minden épület elpusztult, s 1 950 ember meghalt, több mint 9 000-en megsebesültek. A 3 kilótonna erejű robbanás – amely az ember által előidézett legnagyobb nem nukleáris robbanás – szökőárat okozott a kikötőben, a nyomáshullám fákat és oszlopokat csavart ki, épületeket pusztított el és hajókat rongált meg. A Mont Blanc darabjai 6 km-es körzetben szóródtak szét (később a hajó egyik több tonnás horgonyát 4, a fedélzeten lévő 90 mm-es ágyú maradványait pedig 6 km-re találták meg). Két napig az a szóbeszéd járta, hogy a JUSTICIA is a megsérült hajók között van (sőt, a robbanás hatalmas ereje miatt sokan úgy gondolták, hogy eleve a JUSTICIA fedélzetén szállított 30 000 tonna hadianyag robbant fel), míg kiderült, hogy a Mont Blanc ütközése előtt néhány órával korábban elhagyta a kikötőt…
1918.01. … : A hajótest addig egységes szürke színét az előző év októberében kikísérletezett geometrikus álcázó festéssel látták el.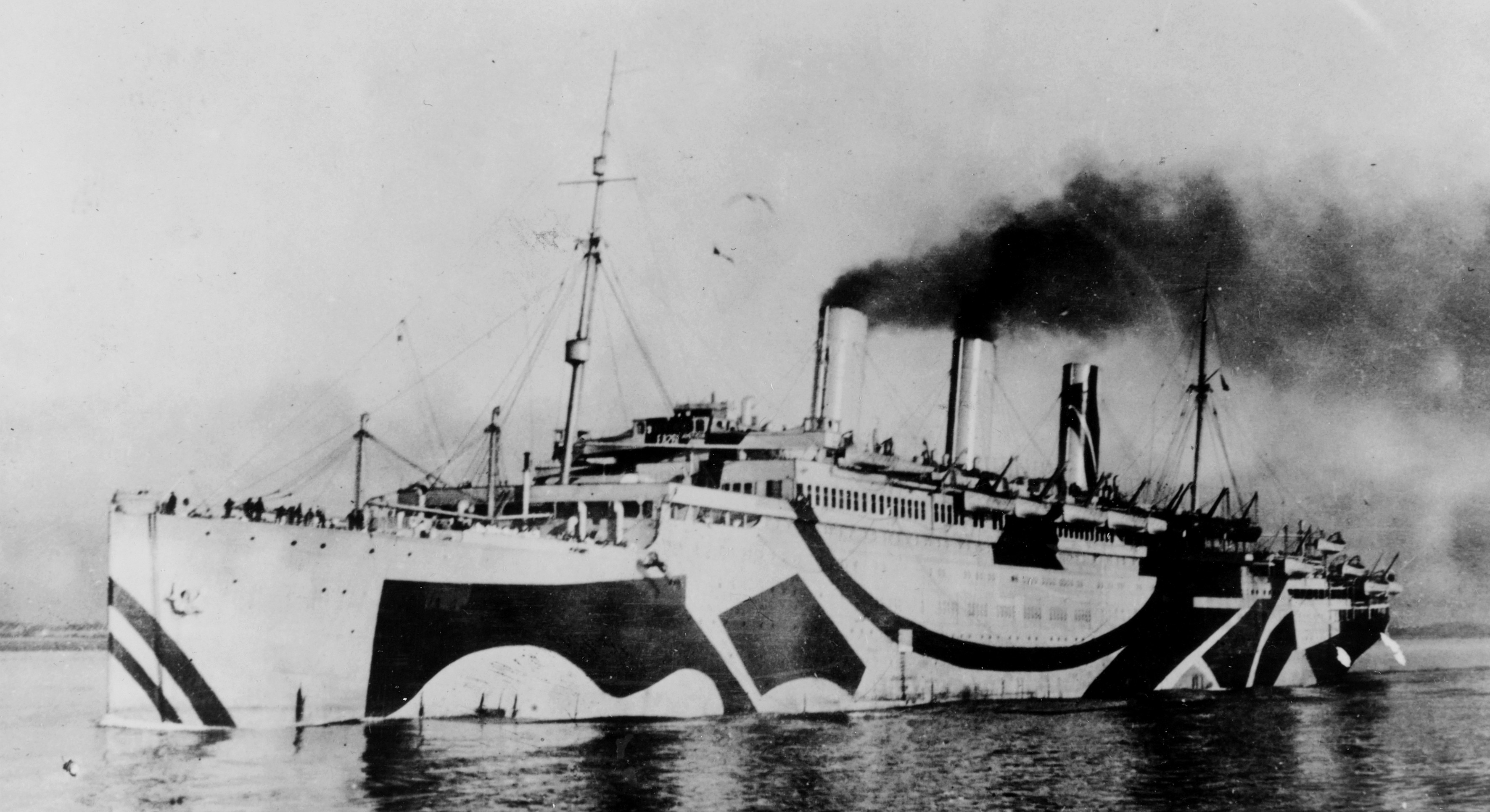 6. ábra: A hajó szemkápráztató álcázó festése (Forrás: Naval History and Heritage Command, NH 101616).
1918.01.24.: A hajó a New York-ból indult konvojjal Halifax érintésével Liverpoolba érkezik. Egy nappal korábban, a Szent György-csatornában került sor a hajó elleni első – ekkor még sikertelen – torpedótámadásra.
1918.04.19.: A hajó a New York-ból indult konvojjal Liverpoolba érkezik.
1918.05.31.: A hajó a New York-ból indult konvojjal Liverpoolba érkezik.
1918.06.27.: A JUSTICIA kifutott New Yorkból Liverpool felé, 5 000 katonával a fedélzetén. Ez volt az utolsó alkalom, hogy a hajó New Yorkban járt, s Európában Hambelton kapitány is kiszállt. A hajónak erről az átkeléséről a fedélzeten szállított 301-es műszaki alakulat 1920-ban kiadott csapat-történetében is megemlékeztek (a kötet 52-58. oldalán). A parancsokságot Hugh F. David vette át.
1918.07.19.: Hajnali 01:10-kor  a JUSTICIA ismét Liverpoolból New Yorkba indul (alig négy hónappal a fegyverszünet előtt). Az OLX 39 jelű gyors konvojt a JUSTICIA és hat másik kereskedelmi hajó – köztük a Melita, Mategama és a Lapland óceánjárók – valamint hat romboló alkotja.
14:30-kor az Otto Schrader tengerész főhadnagy parancsnoksága alatt haladó U64-es partvédő tengeralattjáró két torpedót lőtt ki a hajóra, alig 23 mérföldre (42,6 km-re) a Skerryvore zátonytól. Schrader összetévesztette a hasonló sziluettű USS LEVIATHAN-nal (ex-VATERLAND), a németektől lefoglalt amerikai óceánjáróval (amely a háború legnagyobb kapacitású csapatszállítója volt, s amelyet minden német tengeralattjárós el akart süllyeszteni). Az egyik torpedó elvétette a célt, a másik azonban a JUSTICIA gépházában robbant, a menetirány szerinti baloldalon. A gépház csakhamar megtelt vízzel és a hajó mozgásképtelenné vált, az állapotát mindazonáltal sikerült stabilizálni. David parancsnok ezért felkészült rá, hogy a haditengerészet SONIA nevű vontatója partközelbe, a 16 órányi útra fekvő buncranai sürgősségi tengerészeti javítóbázisra vontassa.
16:30-kor – a vontatási művelet előkészítése közben – azonban Schrader kilőtt két újabb torpedót. Egyikük célt tévesztett, a másikat pedig a JUSTICIA fedélzeti ágyúi semmisítették meg, még a célba érkezés előtt.
20:00-kor az U64-es újabb torpedót indít, amelyet ezúttal is a JUSTICIA tüzérei semlegesítenek.
21:00-kor a naplemente előtt 20 perccel evakuálják a JUSTICIA személyzetét (mivel egy éjszakai torpedótámadás során a sikeres mentés esélye jóval kisebb), a sérült hajón a vontatás idejére csak 16 főnyi önkéntes személyzet marad a legszükségesebb feladatok ellátására. A JUSTICIA-t kísérő rombolók elhárító műveleteiben megsérült U64-es rádión riadóztatja a közelben haladó többi német tengeralattjárót. Hívására az U54-es (Hellmuth von Rückteschell) és az U124-es (Hans Oscar Wutsdorff) tengeralattjárók válaszoltak.
1918.07.20.: Hajnali 04:30-kor a kötelék 28 mérföldre (45 km-re) járt a parttól (ezzel az előző napi 11 órás küzdelemmel a partig hátralévő táv több, mint felét ledolgozták, tudva, hogy még három óra, és a part látótávolságába érnek, újabb három óra elteltével pedig már biztonságban vannak). Az U124-es egy torpedót lő ki a hajóra, amely azonban célt téveszt.
06:00 óra körül további brit erősítés érkezik: már 12 romboló és 14 egyéb őrhajó biztosítja a sebesült óriást.
09:15-kor az U124-es újabb két torpedót indít (a hajóra kilőtt hetedik és nyolcadik torpedó): az első a kazánházak előtti 3-as, a második pedig a főárboc alatti 5-ös számú üres raktérbe csapódott. Ezzel – a pénteki támadások eredményével együtt – a hajó 11 vízhatlan rekesze közül 4 helyrehozhatatlanul víz alá került.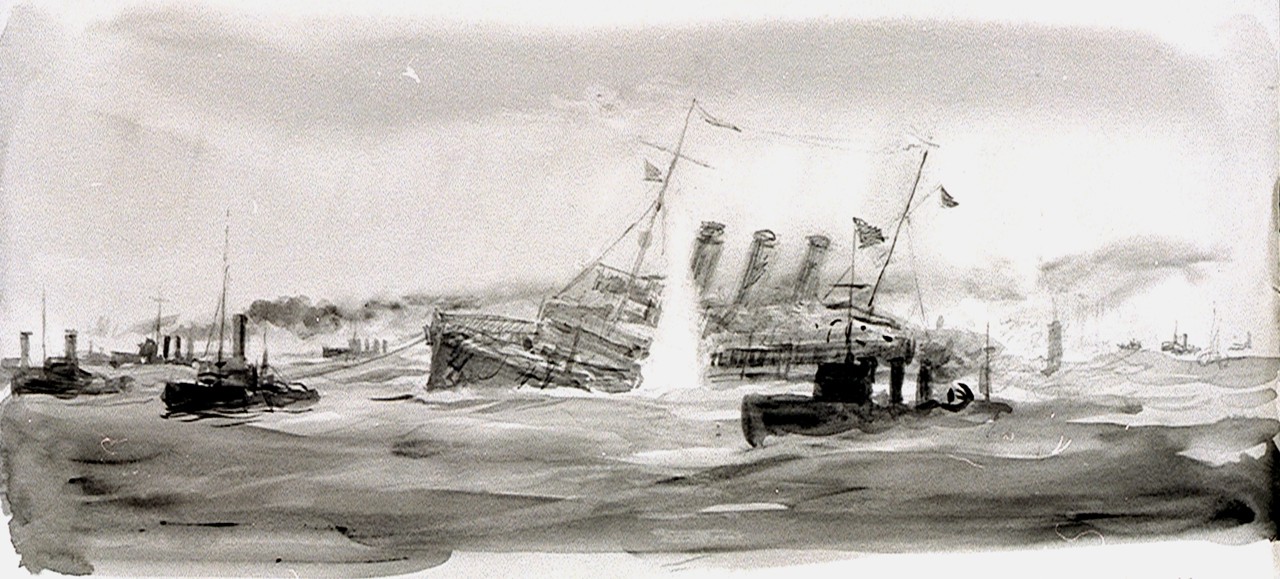 7. ábra: A JUSTICIA 24 órás küzdelmének művészi ábrázolása William Lionel Wyllie akvarelljén (Forrás: Wikimedia Commons).
10:30-kor a 16 fős szükség-legénység elhagyja a hajót, amelyet a SONIA mintegy 6 csomós sebességgel még ezután is vontat, készen arra, hogy elengedje, ha rosszabbra fordulna a helyzet.
11:32-kor a frissen a helyszínre érkező U54-es tengeralattjáró két torpedót indít a JUSTICIA irányába. Mindkét torpedó még a célba érés előtt felrobban.
12:30-kor a vízzel egyre jobban megtelő hajó tatja végleg a víz alá merül, s alig tíz perccel később az egész hajó elsüllyed. Pozíció 55° 38' észak, 07° 39' nyugat.
19:00 órakor az U124-est elsüllyesztik a JUSTICIA kísérő rombolói, az HMS MILBROOKE és az HMS PIGEON.
A JUSTICIA elsüllyedésének 10 áldozata volt. Az első torpedó robbanása azonnal megölt 9 embert és halálosan megsebesítette James Thomas harmadik géptisztet, aki másnap reggel belehalt a sérüléseibe. A halottak között volt Christopher Foran raktáros, Percy Grant tűzoltó, James O'Neil, Thomas Russel és John W. Sutton olajozó, Maurice Johnston, Samuel J. Turner, David Watt fűtő és William J. Jones szénhordó. Az U124-es legénységéből életét vesztette Karl Engstfeld fedélzeti mérnök és Paul Seevers tengerész-hadnagy.
A JUSTICIA – mint a háborúban a Lusitania (1915) és a Britannic (1916) után elsüllyesztett harmadik legnagyobb kereskedelmi hajó – elvesztéséről az óceán mindkét partján hírt adott a sajtó, kiemelve, hogy (a háború folyamán először) tengeralattjárók egész falkája hajtott végre összehangolt támadást a célba vett hajó ellen.
Az esetet hivatalos vizsgálat követte, amely feltárta a transzóceáni konvojok hadihajó-kíséretének gyengeségeit.
Az óceánjáró és a tengeralattjárók egyenlőtlen küzdelmét a kor híres angol tengerészeti festője, William Lionel Wyllie is megörökítette.
1919.01.29.: A brit kormány a hajó bérbevételéről kötött 1915. december 8-i megállapodásnak megfelelően 60 000 tonna acélt biztosít a holland kormány számára egy új óceánjáró felépítéséhez. A Holland-America Line megrendeli az új óceánjárót a Harland & Wolff Hajógyártól. Mivel az Egyesült Államok 1922-1924 között drasztikusan szűkítette a bevándorlási lehetőségeket, az óceáni utasforgalom is átalakult, ezért a STATENDAM III. az elődjénél valamivel kisebb lett, gyári modellje alapján azonban látható, hogy a hajó így is egyértelműen a STATENDAM II. formakincsének folytatója. (A hajó építése a sorozatos sztrájkok miatt 1924-1927 között leállt, végül félkész állapotban átvontatták Hollandiába, ahol 1929-re fejezték be a felszerelését. A két világháború közti időszak legnépszerűbb holland óceánjárója 1940. május 11-én, a Rotterdam elleni német támadásokban pusztult el. Emlékét ma már csak a róla készült és fennmaradt számtalan korabeli fényképfelvétel őrzi.)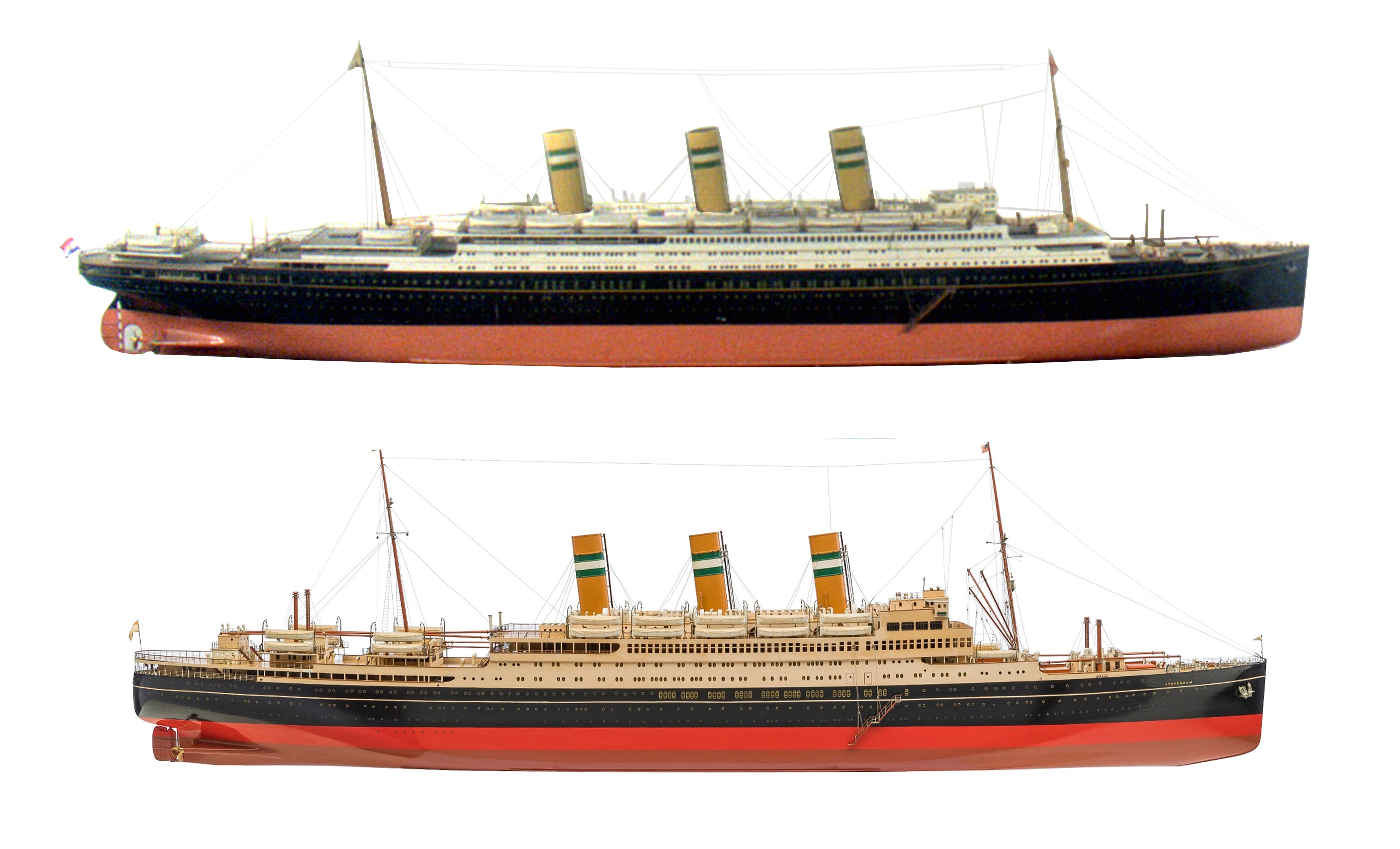 8. ábra: A STATENDAM II. (fent) és III. (lent) gyári modelljei a Harland & Wolff Hajógyárból (Forrás: Tengerészeti Múzeum, Rotterdam).
1993.: Norman és Simon Bamford búvárok megtalálják, merülik és azonosítják a JUSTICIA roncsát.
1995.: Leight Bishop ismert víz alatti fotós, roncsbúvár impresszív víz alatti fotókat készít a roncsokról, amelyek búvárok százait vonzzák és jelentősen hozzájárulnak a roncs ismertté tételéhez.
2005: Az Ír Országos Tengerfenék-felmérés keretében elkészül a roncsok első SONAR-képe.
2014: Norman Woods búvárnak elsőként sikerül a roncsmező nagyobb területeit összefüggően bemutató víz alatti filmfelvételt készítenie úgy, hogy GoPro kameráját a búvárvontatójához rögzítette, így 13 perc alatt képes volt oda-vissza végigúszni a hatalmas hajó hossztengelye mentén.
2018: Balogh Tamás elkészíti a JUSTICIA történetének és roncsainak első monografikus feldolgozását, amelyet a hajó elsüllyedésének századik évfordulóján a hajó szülőhelyén, a belfasti Harland és Wolff Hajógyárban mutattak be a nyilvánosságnak. Darragh Norton búvár és víz alatti fotós vezetésével centenáriumi búvárexpedíció emlékezik meg a hajó elsüllyesztéséről.
2019: Barry McGill búvár azonosítja az U124 roncsait. Matt Bone rendezésében, Barry McGill és Balogh Tamás szakértői közreműködésével elkészül a JUSTICIA történetét és roncsait bemutató első dokmentumfilm.
2020: Gerard Dooly, az írországi Limerick Egyetem kutatója, egyben az Egyetem Mobil és Tengeri Robotikai Kutatóközpontjának munkatársa kezdeményezte a legújabb generációs eszközök (víz alatti szkennerek és a kiterjesztett valóság) felhasználását a hajóroncs kutatásának támogatására.
2021: Balogh Tamás tervei alapján Gyurik Bennett elkészítette a hajó első virtuális rekonstrukcióját, amelyet a KGB Stúdió munkatársai egy 20 másodperces animációba illesztettek be.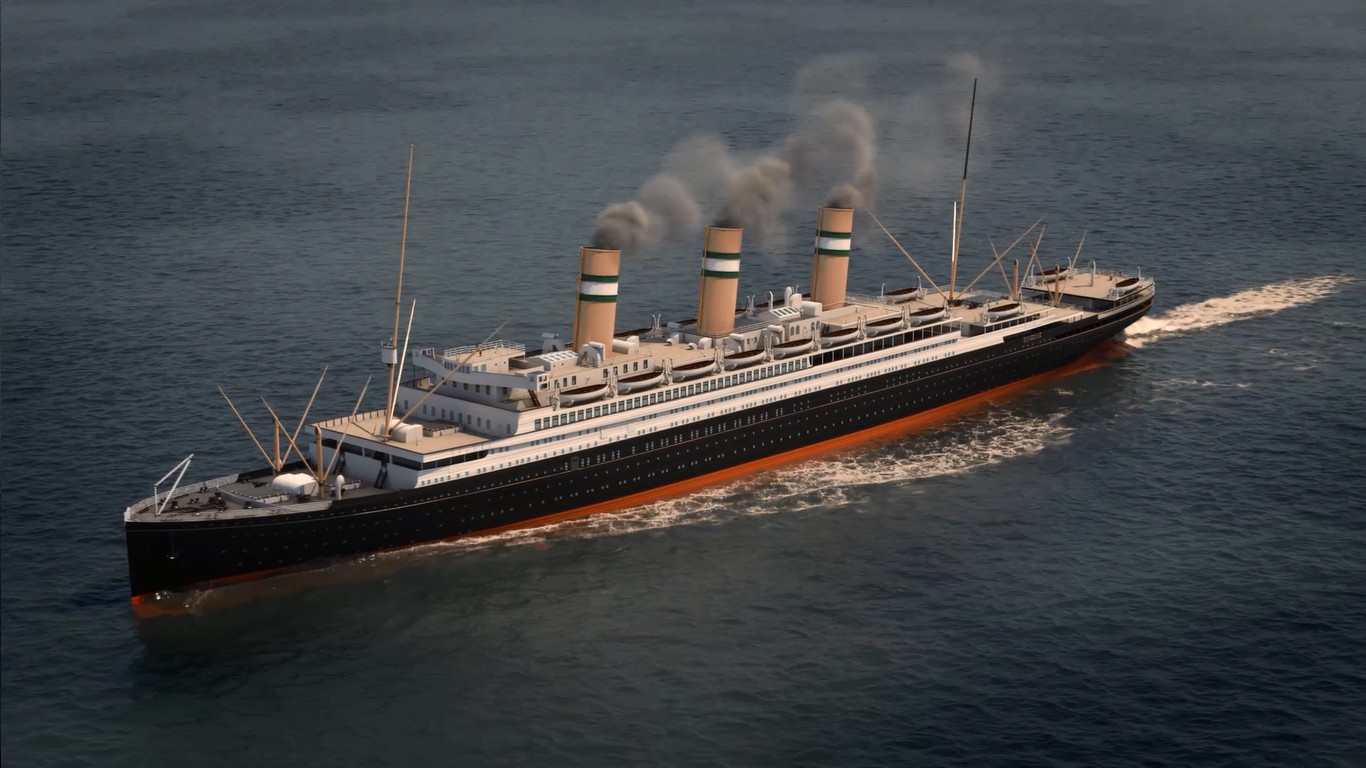 9. ábra: A hajó modern 3D-s megjelenítése (Forrás: Dr. Balogh Tamás gyűjteménye).